A Bathtub in Our Garden
In this amusing narrative, Robert Martin reveals what life is really like in the Sologne countryside. Despite not speaking French, this did not deter the author when an opportunity arose to embrace a more self-sufficient, ecological lifestyle. However, a lot of hard work is involved in renovating an aged farmhouse. Particularly when it doesn't have a bathroom.

The customary dealings with bureaucracy cause tremendous frustration for his wife (who despite being French herself has a thoroughly un-French view of things).

Regional cuisine such as wild boar and mushrooms is on the menu, and a few country wine recipes are included for good measure.

During the year, some well-meaning but frustrating relatives and other unusual characters also make an appearance, including some Romanian truck-drivers and a lady with a moustache.


£8.99; paperback; 256 pages. Published by Linear Road Press.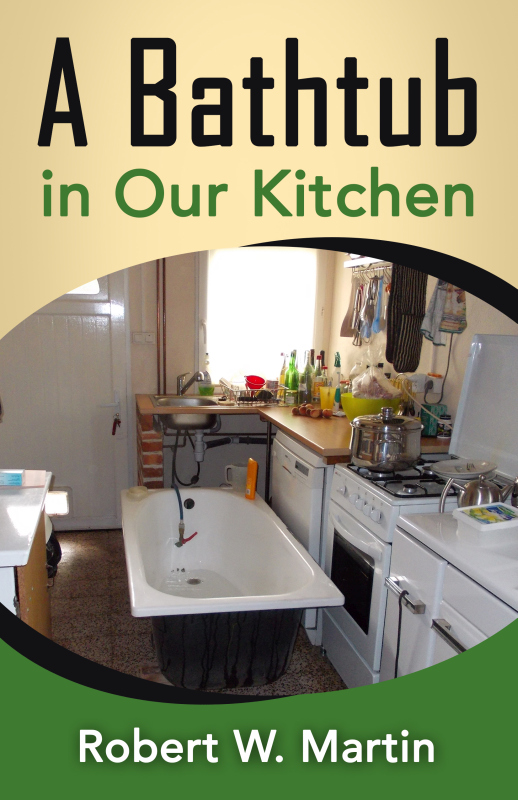 A Bathtub in Our Kitchen
In this second volume of the Bathtub Trilogy, the renovation of an old French farmhouse continues, with the primary goal of achieving an indoor bathroom.

Aside from the sundry construction work, there is a first-time visit to a French dentist, and the intricacies of the French voting system are encountered. Various electrical issues arise, culminating in a farm building catching fire.

A chilling tale of wartime stupidity is recounted.

And we are introduced to a new character; a real-life Obelix.


£8.99; paperback; 234 pages. Published by Linear Road Press.

These titles are available in most bookshops. Or you can order them online from Amazon, Barnes & Noble, or any web store where you normally buy books.

Normally priced at £8.99, if you buy direct, each book will only cost you £7.49 (plus the inevitable postage, of course). Just click the button below! I normally have a few copies on hand, so if you want a personalized autograph, simply add this information to the box titled "Special Instructions or Comments About Your Order" on the shopping cart checkout form.

Please feel free to contact me with any questions. For bulk orders or resale please contact me directly. Quantity discounts may apply.



Carriage: Items will be posted via France Post. Your Shopping Cart will display the weight of your item(s) at the top, and the postage costs at the bottom.

Payment can be made with a PayPal account or with a credit card through PayPal. Your payment information is 100% secure and safe.
Note: if paying by credit card, your statement will show "Paypal*V8owner".